About College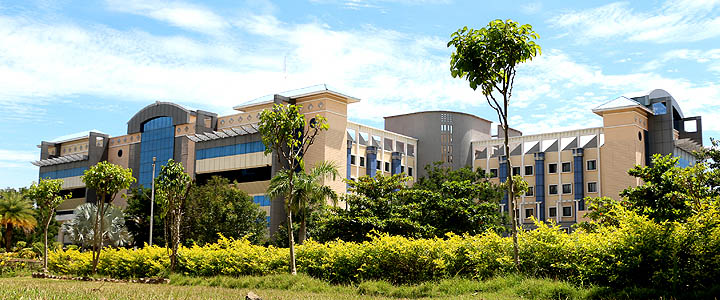 Sri Manakula Vinayagar Group of Institutions offer courses in Medicine, Engineering, Nursing, Polytechnic and Education offering 52 courses. Our campus spread across 225 acres of land with built up area of more than 25 Lakhs square feet to grown it. We have more than 12500 students, 2500 employees, 150 buses, hostel accommodation for 2000 students and more than 200 staff quarters.
University Gold medals and 9 out of 10 University ranks continuously from the inception
Conducted over 6000 surgeries in a year
The Nephrology department performs more than 1100 cycles of dialysis per month for renal failure patients
12 Ultra-Modern operation theaters with laminar flow
900 bedded ultra-modern tertiary care and super specialty hospital
In 2015, South India Medical students conference held in Sri Manakula Vinayagar Medical College and Hospital's central auditorium conducted by the students attracted over 500 Professionals, Faculties and Students
75 students were awarded prizes for winning various national and International competitions in the year 2014-2015
475 Seminars / Workshops were organized by the institute in the last five years
​17 Books were published by the faculty of SMVMCH in last 5 years
In first half of this decade, faculties have submitted 552 research papers
National level events of 12 were organized in the year 2014-2015
Hospital Facilities
Sri Manakula Vinayagar Medical College and Hospital is an Ultramodern, multi-speciality tertiary care hospital with medical research facilities. The hospital has an inpatient capacity of more than 900 beds, exclusive of 100 critical care beds in different specialties. As tertiary care and super specialty hospital, the services are complemented with a day care center, outpatient facilities and an exclusive center for health checkups . With over 300 doctors therein always an experienced specialist on hand to treat.Preventive health is the need of the hour for health conscious people. With this in mind, we have designed different specific Health Check-up packages ranging from basic pre-employment check-up to a comprehensive medical check-up.(These can be further tailor-made and cost-customized to suit various requirements. The hospital's catering department serves nutritious vegetarian food under the guidance of qualified dieticians. An in-house pharmacy provides all essential medicines, medical an allied services to the patients, thus ensuring total control over the quality of drugs administered to patients.
The hospital has computerized all admissions, billing and discharge procedures to save time.
Specialty Services
General Medicine
Paediatrics
Psychiatry
Pulmonology Medicine
Dermatology
Venereology& Leprosy
General Surgery
Orthopaedics
Obstetrics & Gynaecology
Ophthalmology
ENT
Anaesthesia and Dentistry
Super Specialty Services
Cardiology
Cardiothoracic Surgery
Neurology
Neuro Surgery
Nephrology
Urology
Paediatric Surgery
Plastic Surgery
Oncology
Surgical Oncology
Radio therapy
Gastroenterology
Inpatient Services
900 bedded ultra modern tertiary care hospital
100 Special Private ward beds with A/C
12 Ultra Modern operation theaters with laminar flow
24 X 7 Services
Accident & Emergency unit
Pharmacy
Medical Intensive Care unit
Surgical Intensive Care unit
Pediatric Intensive Care unit
Intensive trauma Care unit
Lab & Radiology Services
Ambulance Services
Diagnostic Services
MRI Scan 1.5 Tesla
Cath Lab
CT Scan
Ultra Sound
Color Doppler
X-ray radiography
Echo cardiography
Thoracoscopy
Pulmonary Function Test
Endoscopy
Colonoscopy
Radiology and Imaging Sciences
Mammography
Tread Mill Test
ECG/EEG/EMG
Lab services includes Biochemistry, Microbiology, Histopathology etc
Cashless Services
Cashless services are offered to patients in Sri Manakula Vinayagar Medical College and Hospital. It is empanelled with Government Health Insurance Schemes, Private Health Insurance Companies and Corporate Tie ups.
Empanelled Government Health Schemes
Tamilnadu Chief Minister's ComprehensiveHealth Insurance Scheme
Employee's State Insurance Health Scheme (ESI)
Ex-Servicemen Contributory HealthScheme (ECHS)
BSNL
MD India (Government Employees)
MD India Pensioner
Third – Party Administrator (TPA) tie up list
Star Health Insurance
Vidal Health TPA
Medi Assist TPA
MED Save TPA