Hospital
Health Check Up
---
Healthy lifestyles are yet to gain acceptance amidst many of us. Job related stress, unhealthy eating habits, inadequate rest, high levels of pollution – all contribute to our health problems today. An annual health checkup is one of the best things you can do to maintain good health.
SMVMCH has developed special health checkup programs that consist of detailed medical assessment and counseling on health awareness. Each package has been designed to study the functioning of all the vital organs in our body for any symptoms of major illness and also pinpoint potential areas of risk so as to prevent future health problems.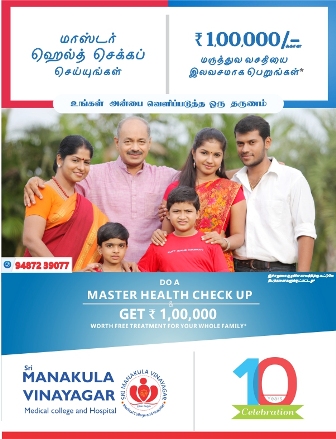 Health Checkup Packages
Economy Health Checkup
Master Health Checkup – Men
Master Health Checkup – Women
Complete Cardiac Health Checkup
Diabetic Health Checkup
Kidney Screening Health Checkup
My Father Health Checkup(Senior Citizen)
My Mother Health Checkup(Senior Citizen)
My Baby Health Checkup
Master Health Check
The present scenario of work in most of the offices involving erratic travelling schedules, deadlines, monthly targets and irregular food habits, has taken its toll on employees. Incidences of hypertension, diabetes, nervous breakdown and cardiac related health hazards have become common amongst more than forty percent of the working class – almost ten percent of which become fatal.
Executive Health Workup
Executive Health Check is focused on providing a complete check up of the vital functions of the body. This check up screens each organ closely to detect even the smallest symptoms that could be on indication of a major disease.
Well Women Health Checkup
On top of the routine stresses of modern life, women carry extra burden of a complex reproductive system. Routine health checks help to keep a woman in optimum health. This package provides investigations that will keep the women healthy and hale.
Children Health Checkup
Energy required by the children doth for their studies and extracurricular activities are acquired through nourished food, Exercise and Healthy Body. We at SMVMCH, ensure and maintain healthy body through Children Health Checkup.
Senior Citizen Health Checkup
The Senior Citizens Health gets deteriorated due to primarily age factor. Regular Health Checkup of the health parameters indicates the ailments. The checkup also function as preventive measure for the possible occurrence of diseases.
Comprehensive Diabetic Check up
The Comprehensive Diabetic Health Check as the name implies, includes all vital checkups that will help you to locate the source, prevention, medication and cure of diabetics. This checkup will gain your confidence and health. The normal symptoms of Diabetics are excessive thirst, increased appetite, frequent urination, sudden loss of weight, giddiness, etc. This is a detailed check up mainly focused on diagnosing the Sugar disease related damage caused to the body.
Pre Employment Checkup
Every corporate is interested to recruit healthy employee to enable flawless execution of work. Basic checkup is done to find the health of the employee is generally well.
Diabetic Foot and Care
Diabetes mellitus (DM) is caused by the malfunctioning of the pancreas with many people continuing to live, little aware that they are diabetic.. The disease has been often identified as a precursor to many other diseases. Early detection and balancing of blood sugar level surely helps preventing other accompanying diseases. This specialized Checkup finds the causes and possible remedies for the diabetic foot.
Heart Checkup
A very thoughtful and caring package to Heart care on time. The Heart attacks can well be prevented by proper and timely checkup. Malfunctioning of Heart brings its own health problems and some of them can certainly be prevented or kept under control.
Kidney Checkup
SMVMCH Kidney Checkup is a Preventive Health Check introduced for early detection of Kidney diseases. Being the vital organ in the human body the regular checkup of kidney will keep the doctor away from our life.