Hostels & Dining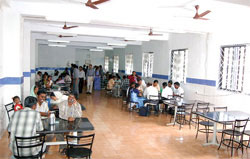 Proximate to college, Hospital and Playground
Balcony attached single, double and triple rooms
300 seated Mess facility
Game facility
Recreation rooms
Un-interrupted power and water supply
Communication facility
Separate hostel facilities are available for male and female students in the campus.
Campus has been provided with well maintained, hygienic canteen, which serves variety of menus including, Chinese, north Indian at subsidized rate. College has separate herbal garden, which has variety of rare plants. It is also provided with a large effluent treatment plant, rain water-harvesting system, Post office, Banks with in the campus.