Departmental Sercices
Outpatient and Emergency Medical Services Department
The OPD is manned by senior general physicians backed by the hospital's comprehensive diagnostic and therapeutic services. Patients in the lower-income group receive free outpatient services. These include consultation, investigations and management.
Medicine Department
Besides treating common medical conditions, the department maintains separate records of all serious and interesting problems, which form the basis of research. Well equipped Critical Care Units, including a bedside Dialyzer. Regular speciality clinics are conducted. Round the clock specilaities are available for treating emergiences. Highly dedicated team is the strength of the department. The cardiac Stress Test Laboratory has state of the art equipment which helps in diagnosing, prognosticating and evaluating the efficacy of therapy in coronary heart disease. In addition, the patient's functional capacity can be measured and certain arrhythmia's evaluated.PFT, EEG, EMG, Dialyzers, Digital Subtraction Angiography, add to the armamentarium.
Anaesthesiology Department
The department of Anaesthesiology provides superb critical care services in an environment of uncompromising patient safety with the help of Ventilator attached Boyle's apparatuses,ETCO2 Monitors, Multipara Monitors, besides assuring highest quality of care to patient safety, before and after surgery.
Orthopaedics Department
Orthopedic Surgeons perform advanced orthopedic procedures such as total joint replacement, spine and other trauma related Orthopaedic surgeries.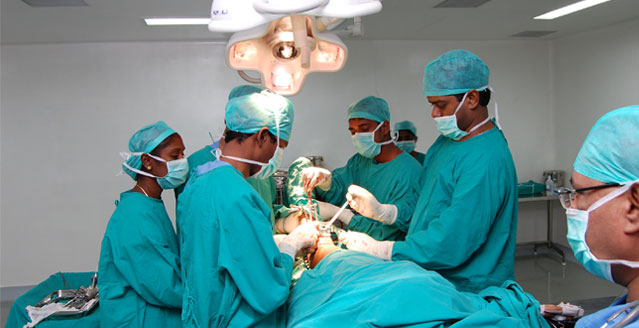 Surgery Department
Surgeons attached to the Department of Surgery perform a wide range of operations both open and keyhole surgeries, from common to highly-advanced procedures like cancer surgery, especially for malignancy of the breast and gastrointestinal tract. Endoscopic procedures like upper GI Scopies, Colonoscopy, endoscopic biopsies are done by our specialists
Obstetric & Gynaecology Department
Our hospital is renowned for its maternity and paediatric services. The Department of Obstetrics & Gynaecology offers comprehensive gynaecological services, ranging from routine examination and family planning to highly specialized procedures. Common problems treated include abnormal uterine bleeding, uterine fibroids, pelvic infection, endometriosis and loss of bladder control.
Paediatrics Department
Our Pediatric Department caters to all the healthcare needs of children, from birth to adolescence. At the daily OPD, Pediatricians treat wide variety of childhood ailments. In addition, emergency care is provided round the clock with supportive services like PICU and NICU.
Our hospital also conducts a "Well-baby clinic" that offers immunization, monitors growth and development of children and counsels mothers on nutrition and other child health related issues.
Speciality clinic are conducted every day to treat and follow up common Paediatric diseases like Asthma, Seizure disorder, various Heart diseases nephrology case and Newborn special high risk baby clinic are also conducted every week.
Ophthalmology Department
This department is equipped with latest equipments. The Service of this department helps in early detection and treatment of cataract with intraocular lens implant and other eye disorders. A variety of other surgeries are also undertaken by experts in the respective field.
Psychiatry Department
In this stressful and busy world, this department deals with day-to-day anxiety, stress and depression apart from other major mental illness.
Dermatology Department
The department treats all kinds of skin diseases.
Accident and Emergency Services
Accident and Emergency services are available round the clock manned by Physicians, Surgeons, orthopedicians , Neurosurgeons, Plastic surgeons, with Duty Medical Officers to ensure Zero delay.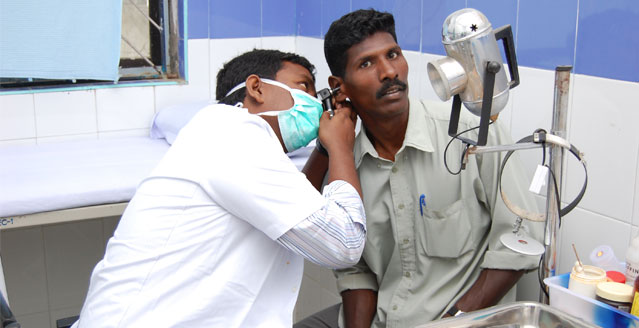 ENT Department
This department is equipped well and has facilities for all surgeries including FESS. This department has also a complimentary Speech therapy and Audiometry section.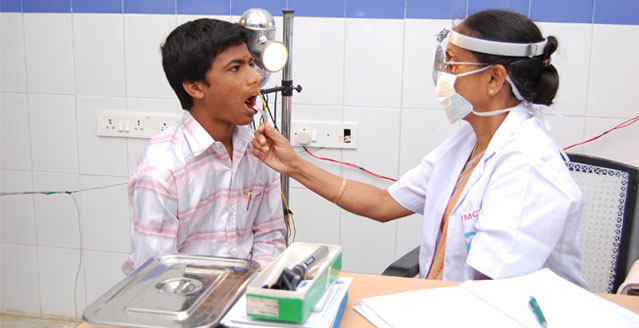 Dental Department
Our specialty dental clinic is run by a group of expert dental surgeons, each having specialized in a branch offer personal care and complete satisfaction. The clinic houses state-of-the-art equipments. The latest and highest quality dental material help carry out various surgical and restorative techniques, all of which makes a world of difference in diagnosis and treatment.
Theatre Complex
Sophisticated, Hi-tech, ultramodern air conditioned theatres with latest gadgets including C -arms,Boyle'sapparatuses with Ventilators,Defibrillators,Latest camera port Pendents provide a safe environment for operating surgeons Anaesthesiologists and patients.
Physiotherapy Services
The Physiotherapy Department offers rehabilitative services and has Equipments such as Short-wave diathermy, Ultrasonic treatment, transcutaneous electrical nerve stimulation and Interferential current therapy.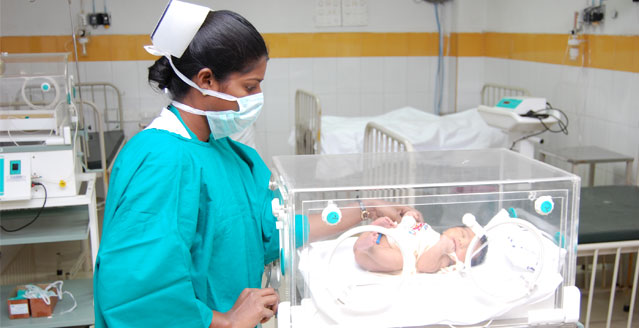 Nursing Services
Personalized care by qualified and experienced nurses represents one of the greatest strengths of our hospital. Our hospital has been renowned for its excellent nursing care, right from the patient's admission to discharge. The hospital has one of the highest nurse-patient ratio in the wards with one nurse per patient in the ICUs.
Intensive Care Units
The ICUs are equipped with Ventilators, Multiparamonitors, Syringe Pumps, Infusion pumps, Central O2 supply, Central Vacuum Suction etc.,
Intensive Medical Care Unit
The hospital has set up the first all-purpose critical care unit and is helping to save a number of critically ill patients.
Intensive Coronary Care Units
Patients with acute cardiac dysfunction are taken care of in the Intensive Coronary Care Units
Respiratory Intensive Care Unit
Caters the need of acute respiratory failures and diseases and is managed by Anaesthesiologists and Physicians
Surgical Intensive Care unit
Our surgical ICU looks after critically ill patients following major surgery. It has an excellent recovery record
Neonatal Intensive Care Unit & Paediatric Intensive Care Unit
The Neonatal ICU is staffed by a team of paediatric intensivists nurses with training in the care of critically ill newborn babies. A full range of equipments including pulse oximetry for measuring oxygen saturation in the blood, heart and blood pressure monitoring, assisted ventilation, incubators and phototherapy units for jaundice are available.